The CCS Newsletter
Dear Randy,
Welcome to the newsletter.
Personal Note from Randy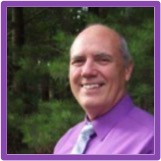 I hope you are doing well this week. I am looking forward to hearing about progress on your book. It will be wonderful to hear about your completed project.
If you have not started yet, it would be my great privilege to work with you. You could find more about that by clicking here. I would love to talk to you about your project.
In our own current affairs, I am preparing to play the part of Pilate in an upcoming Easter Drama. Rhonda will serve as a prompter during the performance. We are practicing almost every night except for tonight and Sunday.
If you live in the area, you might want to come by. The drama is on three nights, April 14, 15, and 16, at 7 pm each night. The location is the First Baptist Church of Thompsonville (IL). The church sits right on the highway going through town. It is between the post office and the school--both are just a block away from the church.
I also completed a short video this week for how to use your book as your best business card. I will include it at the end of the newsletter.


Article
Have you ever wondered what happens to your business card after you give it out? Its journey is probably about like the journeys of the cards you receive.
You take it home or to your office and put it in a little business card holder, or you might put the information in a database. Then it sits there, out of sight, out of mind, until something relevant comes along and reminds you of the person who gave you the card.
But what happens when someone gives you a book? You take it home or to your office. You might even read it! The you put it on a book shelf, and that author's name is ever before you for days, and maybe even years, to come.
The video will go more into this. Hope you enjoy it.
Cool Resource
If you are into video production, I have found a great resource for free backgrounds for green-screen production. I like it because you just go ahead and use the video without further attribution if you desire.
The name of the site is Videvo.net. Check it out.
Upcoming Event
I already mentioned the Easter Drama at the First Baptist Church of Thompsonville. There is another event happening there. If you like Southern Gospel music the Talleys wil be in concert there on Saturday, April 29, at 6pm.
I mention this for my friend, Andrew Cooksey, who was very instrumental in getting that group to come.
Connect with Me
If you would like to find out more about writing a book, contact me at RandyCarneySpeaker.com.
Unsubscribe Link
We will be sad to see you go, but if you would like to unsubscribe to the communications at any time you can click the unsubscribe link below.
Hope you have a great rest of the week. Talk to you soon,
Randy