A Great Time!
Rhonda and I celebrated our anniversary by going to The Ark Encounter in Williamstown, KY. Our friend, Steve Sauvageot, said this was a good picture of Noah.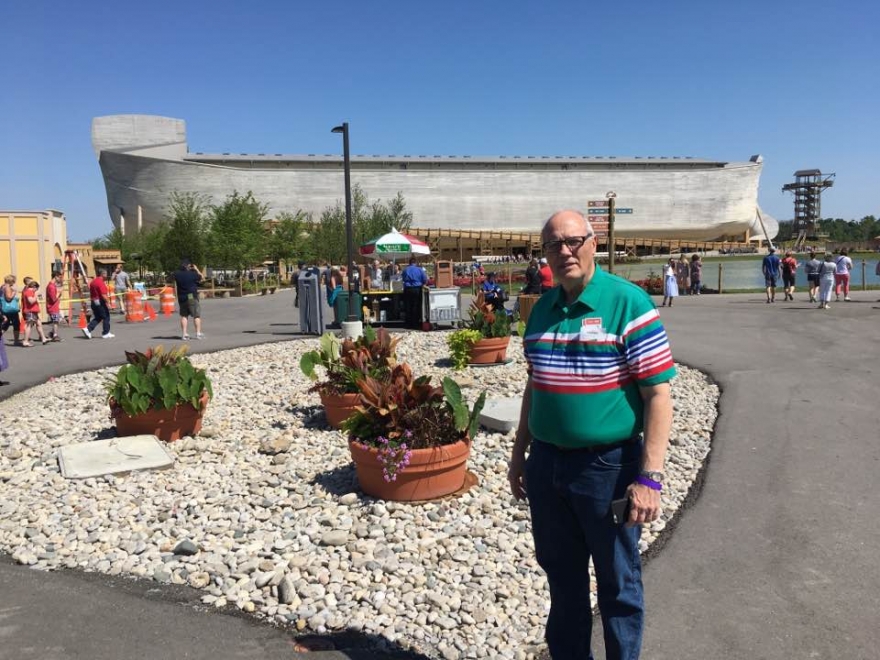 The Ark is built to the biblical dimensions. It is hard to tell from this picture, but it is the length of one-and-a-half football fields. It is about four-and-a-half stories tall.
We had a great time. I had a speaking engagement at the Lions' Club in Thompsonville, IL the night before. We left at 8:30 p.m. and drove the four hours to the motel.
That was fine because we did not rush at all the next morning. The weather was nearly perfect, and the crowd was probably about three-fourths of its normal size. That made for a very leisurely visit.
The lunch buffet on site was excellent. After lunch, we found it to be even less crowded. We had only explored one-and-a-half levels of the three that they had, so we picked up where we left off, and we moved even more quickly in the afternoon.
Then we drive on down to Louisville, KY, and spent the night there.
(Men, you might want to skip over this next part :)) When we got up the next day, which was the actual day of our anniversary, all we had to do was get home. The day was totally unplanned. Can you guess what we did?
I have to confess. We went to Garage Sales!!! You see, like I mentioned in my latest book when we decided to try things that our spouse's like, I decided several years ago to go the garage sales with her. After a few times of doing that, I took a book with me.
Now, I drive her to sites. I get out and take a quick look. I usually look at books and maybe some electronic items. Then I go back to the car and read. I have found that I really enjoy this activity, so it ends up being a good time for both of us.
Webinars for Fun and Profit
I have started presenting webinars from the comfort of my home. So, I am doing public speaking, without the travel.
Don't get me wrong. I really like to travel, but you can get too much of a good thing.
The most recent one was "How to Write Your Dream Book in 28 Days of Less, Without Stressing Yourself to Death."
During the webinar, I introduced a new group-coaching program that will start in July. You can check that out here.
Cool Resource--WebinarJEO
You have probably heard of GoToWebinar. I have been using Webinar JEO, and the more I use it, the better I like it.
You might want to check it out for your own use. There a lot of advantages when you compare it to other programs.
Here is the link for more information.
Upcoming Event or Promotion
"Three Secrets for Writing a Book Quickly and Easily" is a free webinar coming this Thursday morning at 10:00am Central Time (11:00am Eastern, 8:00am Pacific, 9:00am Mountain). Those who have dreamed of being a writer but who have never published will benefit greatly from this webinar.
This seminar is especially for aspiring writers, business owners, and professional speakers.
If you have already written and published before, if you are like me, you are always looking for tips and tricks to make things easier.
Here is the link to sign up for the webinar.
Connect with Me
If you would like to find out more about writing a book, contact me at RandyCarneySpeaker.com.
Unsubscribe Link
We will be sad to see you go, but if you would like to unsubscribe to the communications at any time you can click the unsubscribe link below.
Hope you have a great rest of the week. Talk to you soon,
Randy
While I only recommend products that I think are helpful. You should assume that if you click on a particular link, and end up investing in that product, that I could possibly be an affiliate, and might receive some financial benefit from such investments.